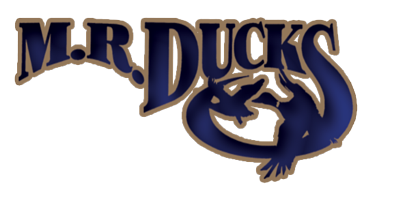 If you have visited Ocean City, Maryland, you've most likely spotted someone wearing the world famous M.R. Ducks tee shirt. Each year a renowned wildlife artist is commissioned to paint the design for the current year, which over the years has become a collectors item for the M.R. Ducks patron.
Lloyd and Gail Lewis opened the well-known M.R. Ducks gazebo bar (without a name) in the 1980's for the convenience of the guests of the Talbot Inn and the charter fisherman returning to the pier at the end of their day. The bar became a watering hole not only for the guests of the Inn, but that of locals and visitors to Ocean City as well.
As the first season came to a close, the name M.R. Ducks was finally chosen. The name comes from a Duck Hunter's poem about two duck hunters in a duck blind, with one saying to the other: "M.R. Ducks (them are ducks), M.R. Not (them are not), O.S.A.R (oh, yes they are), C.M. Wangs (see them wings), L.I.B (well I'll be) M.R. Ducks (them are ducks). Eventually tee shirts were printed and sold from the Dock Office, with the shirts stored in leftover beer flats and a cigar box for a cash register.
M.R. Ducks retail now features a full line of clothing depicting the great outdoors with five locations; three in Ocean City, two locations in Myrtle Beach and you can find M.R. Ducks Apparel on-line at .
The M.R. Ducks Saloon continues to be a comfortable and relaxing spot over the bay to gather with friends and enjoy the ever popular Chug-a-Duck, M.R. Ducks crab dip or the signature wings. You might even hear a tall (fish) tale or two and catch an unforgettable sunset while listening to great entertainment.
Located at 311 Talbot Street, the M.R. Ducks flagship location has expanded to include the boats of The Talbot Street Pier. Search for buried treasure aboard the Duckaneer Pirate Ship or enjoy an afternoon flounder fishing on the Happy Hooker. You can even learn about the local marine life on the Assateague Adventure or the Assateague Explorer while taking in the beautiful views on the Sinepuxent Bay. The OC Rocket rounds out the fleet, offering an oceanfront speedboat ride with the chance to see dolphins and the opportunity to view Ocean City from a different perspective!
A lot has changed in Ocean City over the last 40 years, but M.R.Ducks continues to be a family owned and operated establishment with something to offer the entire family! You can come stay and play right on Talbot Street!